Electric Boat Hire Initiative in Chicago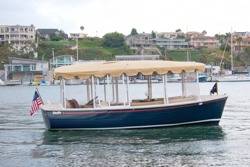 Boat-share company Vantage Yacht Club takes delivery of four electric boats from Duffy Boats
Vantage Yacht Club, offering shared yacht ownership announce additions to its Fleet Membership and Non-Member rental fleets with the delivery of four electric Duffy Boats.
Arrival of the electric boats is the first such initiative in Chicago. Electric boaters will cruise the Chicago River taking in the sights and sounds of the city while promoting environmental responsibility and sustainability. These zero-emission electric boats are available to rent by-the-hour beginning April 1, 2012 from 8:00 am until midnight, seven days a week. The boats are enclosed with an overhead canopy and removable windows and will be rented throughout all four seasons. The boats are easy to operate by boaters, even those who have no boating experience.
Vantage believes that its customers will not only begin to appreciate the Chicago River even more, but will directly join the effort to attract Chicago's decision makers to intensify River cleansing and vitalization programs. By adding hundreds of electric boats to its fleet over time, Vantage expects a sparkling Chicago River for all eventually to enjoy. Vantage Yacht Club's management expects similar electric boat initiatives to follow its lead.
About Vantage Yacht Club
Based in Chicago, Illinois at the Willis/Sears Tower, Vantage Yacht Club also offers marina management, yacht management, club membership, charter, leasing and fractional yacht ownership. Vantage programs offer access to an exquisite collection of boats and yachts at a fraction of the cost associated with private ownership.