Germany's Nordic Yards Wins Innovation Award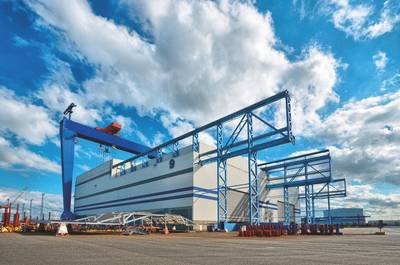 Nordic Yards receives Top 100 award from the Vienna University of Economics and Business at a Berlin ceremony.
At a ceremony for the Top 100 companies at the Axel Springer Passage centre in Berlin, journalist and TV host Ranga Yogeshwar presented Nordic Yards' managing director Vitaly Yusufov with the Top 100 prize for innovation.

Nordic Yards is one of the companies whose innovative ideas are driving forward the shift to renewable energy. The shipyard group claims to be a world market leader for DC converter platforms – huge floating substations that convert alternating current produced by offshore wind farms into direct current for a lossless transmission to the mainland. Of the eight converter platforms currently under construction worldwide, four are being built in Wismar and Rostock- Warnemünde. Nordic Yards is a global market leader in the manufacture of these ninety metre high platforms, which weigh as much as 25 Airbus A380 aircrafts.
With about 1,150 employees, Nordic Yards designs and builds other specialised vessels, such as an installation ship for offshore wind turbines. This project, the so-called "Heavy Installer", uses its onboard crane to install the turbines in waters up to 55 metres deep. It can simultaneously transport up to four pre-assembled wind turbines or foundations from the harbour to their offshore positions.

"We concentrate on high-tech and bespoke work rather than mass production," says owner and managing director Dr. Vitaly Yusufov, who took over the almost 70 year old company in 2009. As a result, around 80 per cent of the company's revenue and profit came from new products and technical improvements which they had brought to market during the past four years, always one step ahead of their competitors.

The Top 100 award is based on academic research into the firms under consideration conducted by Professor Nikolaus Franke and his team from the Institute for Entrepreneurship and Innovation at the Vienna University of Economics sand Business.