Ulstein Designs Nominated for Innovation Awards 2012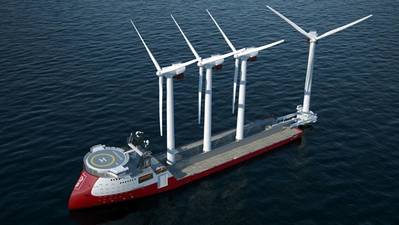 Three ULSTEIN developed designs nominated for innovation awards in 2012: 'Windlifter', 'Northern Light Drill Tower' & 'Polarcus Amani'
The nominated designs are:
The turbine installation vessel 'Windlifter', developed by Ulstein Idea Equipment Solutions and Ulstein Sea of Solutions, is suitable for single lift installations.
Unlike jack-up units, the vessel is not limited by waterdepth. The installation system is a modular, mechanical system to skid turbines from the vessel onto the foundation. All components in the installation system are relatively close to deck level, improving accessibility and reducing maintenance costs.
The 'Northern Light Drill Tower' is developed by NLI Solutions in cooperation with Ulstein Sea of Solutions based on the latter's initial concept of a drill tower consisting of four vertical box beams as the main structural components. The drill floor and substructure are fully integrated and the optional foldable top enables a reduction in air draft.

While these two designs were nominated as ONS Innovators, the arctic-ready seismic vessel 'Polarcus Amani', developed by Ulstein Design & Solutions, was one out of three vessels nominated as Ship of the Year 2012 by Skipsrevyen.
"To be nominated, the degree of innovation is the main criterion," said Asle Strønen, member of the jury. Being of the SX134 design, 'Polarcus Amani' carries the ICE-1A* and Winterized Basic notations from DNV, and can operate in first-year ice of up to 1 metre thickness.