Lamprell Delivers Wind Turbine Installation Vessel 'Bold Tern'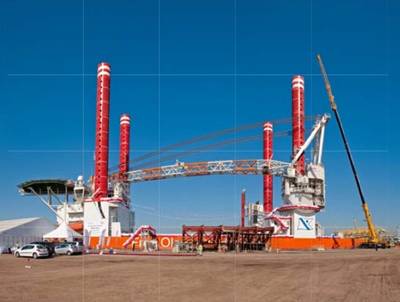 The Wind Turbine Installation Vessel Windcarrier 2 has been delivered to Fred Olson from Lamprell's Jebel Ali UAE facility.
Completion and delivery o f the vessel, five months after the delivery of its sister vessel, the Windcarrier 1 "Brave Tern", was marked with a ceremony at Lamprell's Jebel Ali facility
The vessel will depart to its operating location in the North Sea shortly. With this delivery, the Group has now completed a total of five new build offshore wind turbine installation vessels with a sixth vessel currently under construction. Aside from the two Fred Olsen vessels, three others were delivered to Seajacks with one more, the "Hydra", under construction.

Commenting on the delivery, Peter Whitbread, Chief Executive Officer, Lamprell, said: "I am delighted to make delivery of the "Bold Tern" to her new owners. The project has been highly complex with significant challenges which we have overcome. Given these challenges, it is with some pride that we can now see this vessel completed and ready to sail."
"This milestone, marking the completion and delivery of the second Windcarrier vessel, is significant on several fronts; the "Bold Tern", and her sister the "Brave Tern", are the largest two vessels ever built by Lamprell and the new designs are considered prototype in nature. Whilst this presented many of the projects' challenges, Lamprell's ability to take on complex engineering design and construction projects has grown accordingly."