REW Innogy Names Offshore Turbine Installation Vessel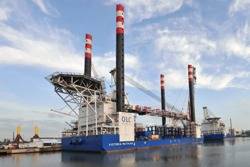 RWE Innogy names offshore wind turbine installation vessel "Victoria Mathias" tasked to help build the German offshore wind farm 'Nordsee Ost'
During a festive ceremony in Bremerhaven , RWE Innogy named one of its two offshore installation vessels. The vessel "Victoria Mathias" will build the wind farm "Nordsee Ost" around 30 kilometres north of the island of Heligoland from its base port Bremerhaven.
The wind power station with an installed output of 295 megawatts can supply around 295,000 German households with electricity each year. The installation vessel is the first of its kind worldwide to be able to transport up to four offshore wind turbines of the multi-megawatt class at the same time and then install them at a depth of more than 40 metres.

Although the vessel was built in South Korea, Europe accounts for around 60 percent of created value. The German supply sector alone contributed around 40 percent of the "Victoria Mathias". The order value per vessel was around 100 million euros, and Lloyd Werft finished off the vessel.
The specialised vessel, which is more than 100 metres long and 40 metres wide, is perfectly designed for the construction of offshore wind turbines and is one of the most powerful of its kind. A satellite-controlled navigation system can position the vessel precisely at centimetre accuracy for the construction works at sea.
It has extendible steel beams that fix it securely to the seabed, and a crane with 1,000 tons of lifting capacity. On the building site, the vessel thus turns into a jack-up rig, from which foundations and wind turbines can be installed. The installation vessel will transport two foundation structures every two weeks and later to transport and install all 48 wind turbines of the 6 megawatt class. 

In addition to the "Victoria Mathias", the company also had another vessel built, the "Friedrich Ernestine", which is identical in construction. This vessel will build the Gwynt y Môr wind farm (576 megawatts) off the coast of Wales.