Wärtsilä to Provide Harvey Gulf Vessels Integrated Package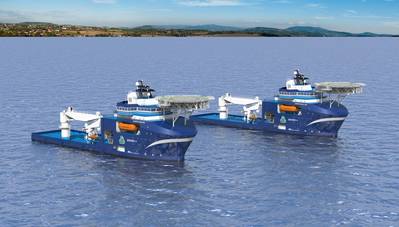 Wärtsilä has been awarded a contract by Eastern Shipbuilding Group, of Panama City, Florida to supply an integrated solution for a new multipurpose support vessel (MPSV) for Harvey Gulf International Marine of New Orleans.

This offshore vessel is the first in a series of three MPSVs being built for Harvey Gulf. The Wärtsilä contract includes an option for the supply of equipment to the remaining two vessels of the series.

Wärtsilä's scope of supply includes the engines, a turnkey installation of the Wärtsilä Control & Communication Centre (3C) integrated bridge, navigation, and communication control system, and the complete electrical and automation system. Wärtsilä has also been contracted to fully integrate the supplied systems and to further interface them with other onboard systems. Wärtsilä will also be responsible for submission of the documentation required for classification society approvals.

Included in the comprehensive solution is a long-term service agreement. The five year service agreement covers six LNG fuelled offshore supply vessels and up to three multipurpose support vessels, and includes all the Harvey Gulf vessels that have recently been fitted with Wärtsilä equipment.

The multi-purpose support vessel will operate in the offshore oil fields of the Gulf of Mexico, and will be owned and operated by Harvey Gulf. The ship is expected to be operational before the end of 2015. It will have the ABS Guide's Enviro + notation representing the vessel's compliance with the more stringent criteria for environmental protection.

"Harvey Gulf is very pleased to continue the relationship with Wärtsilä for the supply of their integrated solution for our first of its kind U.S. Flag Multi Purpose Support Vessel. Wärtsilä has shown total commitment to the needs of Harvey Gulf by means of support during the initial design, construction, delivery and service agreements. Harvey Gulf looks forward to continuing this relationship on future endeavors," commented Shane Guidry, CEO of Harvey Gulf International Marine.