Five Minutes with Richard Marler, Chairman, President & CEO, Signal International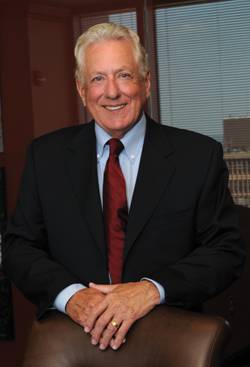 In the June 2010 edition of Maritime Reporter & Engineering News (www.marinelink.com), we had the opportunity to meet with Richard Marler, Chairman, President and CEO of Signal International, on the sidelines of OTC to discuss his company's rapid growth and promising future. – by Greg Trauthwein, Editor
What is the primary focus of Signal International?
RM Our principal focus is offshore drilling rig and ship overhaul, repair, upgrade and conversion. Additionally, we provide services to the general marine and heavy fabrication markets and are moving into shipbuilding.
When and why did you start Signal?
RM The company was created in January 2003. After the Friede Goldman bankruptcy, we essentially picked up the offshore sector, which included four yards in Texas and two yards in Mississippi. The name Signal was chosen for its meanings associated with communication and outstanding achievement.
To what do you attribute your company's strong growth?
RM On day one we realized that we needed to be diversified, but first and foremost we realized that we needed to be an ISO certified yard, and that we needed to be focused on safety. From the outset we knew we had a challenge entering both old and new markets, and adopted the stance that we would 'crawl, walk, run.'
How is your company investing?
RM At the Orange (Texas) facility we have invested more than $40 million to achieve heavy fabrication using continuous flow manufacturing techniques and processes. In February (2010) we purchased select assets of Bender Shipbuilding for $31.25 million, the bid accepted by the United States Bankruptcy Court for the Southern District of Alabama. The Bender yard will be branded as Signal Ship Repair. It fits squarely with our strategy to seek attractively priced acquisitions that continue to add market diversity. The Bender acquisition brings us up to five yards now, as we had previously closed two of the original yards in Texas.
Have there been any surprises after the Bender acquisition?
RM It has been a lot easier than I thought it would be. They had some really good management and craft workers that we kept, and we had to go in, clean up the yard and upgrade the adherence to safety and invest $5M in capital.
A number of times you referenced the importance of safety … can you share with us some examples of how you
enhance the safety culture?
RM A good example is our Texas and Mississippi yards, where the employees would not wear their protective eyewear. To help turn this culture around, we sourced eyewear that looked like Maui Jim sunglasses, and now we are finding that they wear them both at work and outside of work. Safety and Quality is a culture … and it is the culture of Signal.
Are there any exciting new projects on the horizon?
RM We were recently awarded a $30M contract by Waller Marine Inc. of Houston, Texas, to build and support the outfitting of two 300 x 100 ft power barges. Each barge will have a single GE 7FA Gas Turbine and 171 MW generator. Upon completion of the barges Waller Marine will install and operate the units in Venezuela. This contract will be built at the Orange, Texas, fabrication facility and shipyard, and proves that the investment in this facility is paying off.
Where do you envision future business for your facilities?
RM The next step is shipbuilding … tugboats, large double hull barges, offshore supply vessels, NOAA-type vessels and perhaps selected Navy ships. Signal's quality and safety are unparalleled in the U.S. Marine and heavy fabrication industry. The improvements we have made at Orange will be enhanced by a new side launch capability this year. We are entering the shipbuilding market with all of the resources necessary to be competitive with regard to cost and schedule for a variety of ship and vessel designs.
We are also looking to go into Brazil with overhaul and repair capacity, but right now this plan is in its infancy.
Finally, we see the offshore alternative energy sector growing much like the offshore oil and gas sector did; starting out close to shore, and eventually moving further offshore with floating platforms.
Since the company's inception, what has been the greatest challenge?
RM Hurricanes Katrina, Rita and Ike. We had hurricanes hit the yards in a matter of six weeks. In the aftermath, the challenge was simply getting manpower, as people had dispersed to tend to their personal needs. At this time, contract labor was about the only way you could get people, and this comes with its own set of challenges.
How has the overall economic
slowdown affected your business?
RM 2008 was our best year ever, and in 2009 we did about 30% of our 2008 revenue.
What plans were in place to emerge stronger?
RM We stayed ahead of the decline, planning reductions well in advance, starting in December 2008. Also, when we made cuts, we kept intact our supervisors, who basically were 'moved back to their tools.' Even though their role shifted, we kept their pay up, because we wanted our management team to stay in place, and that's what happened. We could never have built back up that quickly had we not kept our management in place particularly in our Orange yard. Employment there had dwindled to around 150 employees when we were awarded the Waller power barges. With the supervision in place we increased our craft manning by 500 employees in about eight weeks and we did so with local hires and no contract labor and no sacrifice in safety, productivity, and quality.
In your experience, what technology advances do you credit for improving safety and efficiency?
RM Capital equipment … robotics, welding machines, etc … are great, but it takes a good management team and dedicated skilled craft to make it work. The machines can't do the work without a strong management team.