Signal International Lands Hopper Dredge Deal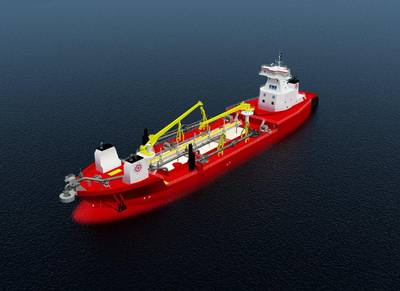 Signal International, Inc., has landed a $94 million contract from Great Lakes Dredge & Dock Corporation, (GLDD) to build an Articulated Tug & Barge ("ATB") Trailing Suction Hopper Dredge.
The 15,000-cubic-yard-capacity Dual Trailing Arm Suction Hopper Dredge with a 14,000-horsepower tug is believed to be the world's first fully integrated ATB Dredge and the largest hopper dredge in the United States. The dredge barge dimensions are 410 ft x 92 ft x 36 ft (124.97m x 15.85 x 10.97m) with the tug measuring 150 ft x 52 ft x 36 ft (45.72m x 15.85 x 10.97m). The dredge will feature two 36-inch suction pipes and dredge at depths of up to 125 feet. The barge will have two electrically driven 800 horsepower tunnel thrusters.
The tug will be classed ABS with A1, AMS, ACC, towing vessel unlimited notations. This ATB unit will be built to the USCG specification for Dual Mode ITB under NVIC 2-81. Both the tug and barge will be outfitted with an Articouple FRC 90 connection system.
The ATB will be equipped with a direct high power pump-ashore system, a hybrid power sharing configuration between the tug and barge, dynamic positioning and tracking, EPA Tier III compliant engines, and additional proprietary features designed to minimize the impact of its dredging process on the environment.
Work has already commenced on the project at Signal International's Orange, Texas facility, where the in-house engineering department is developing detail design and production drawings. One of the major factors that drew GLDD to Signal International was the ability to take a delivered functional drawing package and develop a full 3-D detail design in-house for construction. This 3-D engineering package complements Signal's Continuous Flow Process construction methodology.
Signal International CEO and President, Dick Marler, stated, "We anticipate hiring an additional 125 new craft personnel at our Orange, Texas new construction facility starting next year. Our yard is well-suited for building these unique vessels and our crew and management team have the experience to meet the Q3 2014 delivery."
GLDD partnered with Ocean Tug and Barge Engineering Corp. for the design and engineering of the tug and with Bay Engineering of Sturgeon Bay, Wisconsin for the dredge.