China Company Takes Over Sunseeker International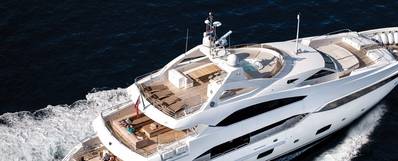 The Dalian Wanda Group, one of the largest Chinese property and cinema groups, will acquire almost 92 percent stake in the leading global luxury yacht company, Sunseeker International Limited, for about GBPDS 320-million.
Although the private yachting market is in its early stages in China, this industry is growing rapidly. Wanda's Chairman Wang Jianling states that "China's consumption is growing, especially in the market for high-end luxury products. We have noticed the growth in consumption of luxury yachts, also private planes -- the growth is exponential." Chairman Wang also added that "With the committed support of Wanda, Sunseeker is well-placed to take full advantage of opportunities in China, one of the world's fastest growing luxury yacht markets. We are confident that this will bring Sunseeker's business to the next level."
Wanda's acquisition of Sunseeker is strategic; Stewart Mcintyre, Managing Director of Sunseeker International Ltd, commented, "We are thrilled to be joining the Wanda family. Support from Wanda will be instrumental in enabling Sunseeker to unlock the enormous potential of China's rapidly expanding luxury yacht market."
Asia based Puji Capital, an investment group that focuses on China cross border investments and M&A in the lifestyle, media, and entertainment sectors, assembled the consortium for this transaction and acted as the financial advisor to Wanda in this acquisition.