Intershield Durability Confirmed by Bulker Survey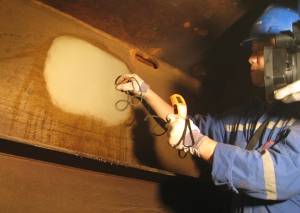 The performance and durability of International Paint's anticorrosive coating Intershield 300 has been proven at the third special survey of the panamax bulk carrier MV Eleranta, when a Lloyd's Register surveyor confirmed the double bottom tank coatings of the vessel to be in "good condition."

The 15-year-old bulk carrier, built at Samsung in 1995, had Intershield 300 applied to her ballast tanks when she was built. With minimal maintenance through her life to date, a Lloyd's Register class surveyor rated as "good" the condition of the double bottom tank coatings and rated as "fair" the coatings condition in the starboard topside tank. In this area, the ship's superintendent said any corrosion that was evident was largely a result of structural repairs required from stress areas, rather than breakdown of the coating.

The 73,222 dwt Eleranta, operated by V Ships (UK) Ltd, was originally protected by two coats of Intershield 300 at 125 microns dry film thickness (dft) per coat. As part of her third special survey at 15 years, a routine inspection of internal coatings was carried out. The results are believed to be the first real life evidence of anticorrosive coating performance over a 15 year period. The significance of this lies in the fact that the IMO has set out in its Performance Standard for Protective Coatings (PSPC), now a part of SOLAS, the requirement that anticorrosive coatings used in water ballast tanks should remain "in good condition" for at least 15 years.

The ship's superintendent present at the Eleranta survey said "The few inserts insisted upon by Lloyd's Register were as a result of stress and fatigue," he said, "and not due to any coating corrosion. My own opinion is that the main fabric of the topside tanks is still well protected."

A new high solids version of the coating, Intershield 300HS, with reduced volatile organic compound (VOC) content, was introduced in Europe earlier this year. The new formulation has 78% volume solids compared with 60% in the earlier version. It has the same aluminum content, is designed to be applied direct from the can without thinning and will provide the same degree of corrosion protection while assisting shipyards in meeting reduced VOC emission limits.