China's First Inter-tidal Wind Power Project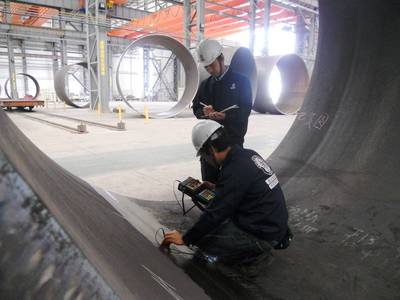 Classification society Bureau Veritas assists Longyuan, China, in 'Jiangsu Longyuan Rudong 150 MW Offshore Wind Farm Pilot Project Phase III.

As the only foreign third party inspection company working on this project to have participated in all three phases, Bureau Veritas services included supervision for the tower and pipe piles construction.

According to BV, this was the first large scale intertidal offshore wind power project in the world, and incorporated pipe pile structures on the wind turbines using the latest technology.

So far, Bureau Veritas has been involved in all of China's offshore (including intertidal) wind power projects (both completed and under construction), such as the Donghai Bridge Wind Farm Phase I and the Pilot Project for Jiangsu Longyuan Rudong 150MW Offshore Wind Farm Phases I, II, III, of which Bureau Veritas was responsible for providing quality supervision and manufacturing processes control.

Mr. Qian Zhenghong, the project leader, said, "During the implementation of phase I, the professional and rigorous services of Bureau Veritas guaranteed the quality of project."

By July 2012, Bureau Veritas had supervised more than 9,800 wind turbine towers, provided technical support for more than 1650 wind turbine bases, and supervised the hoisting of more than 1900 wind turbines for many domestic and foreign wind turbine manufacturers and wind farm owners.