ESAB Introduces Smart Voltage Height Control System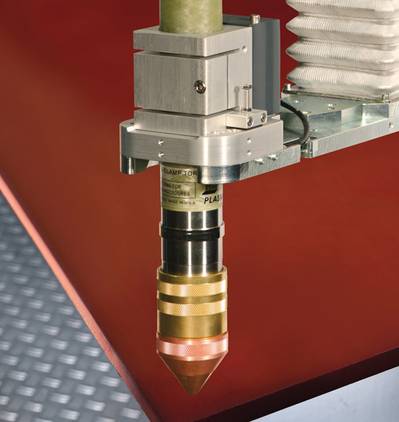 Florence, SC - ESAB Cutting Systems has developed the new Smart Voltage Height Control (SVHC) system.

SVHC improves plasma cut quality and maximizes plasma consumable life by automatically compensating for electrode wear. By integrating a number of plasma and CNC features which have existed for many years, this new system lets plasma users receive maximum value from their cutting machines, improving performance and driving down the total cost of production.

The SVHC system utilizes ESAB's PB-MB-1 plasma torch station, and integrates capabilities from the arc-voltage sample & hold feature pioneered by ESAB in the 1990s, and the electrode wear detection system patented by ESAB in 1998.

The torch station features pneumatically-balanced tool-tip sensing, magnetic breakaway crash protection, and an encoder for accurate Z-axis position control. The Pneumatically Balanced Magnetic Breakaway torch holder allows accurate initial height sensing. It is combined with an electrical touch-sensor that also detects when the torch is in contact with the plate. This dual-sensor system provides the most accurate sensing of the plate surface, which is used as the reference for initial cutting height.

The SVHC system uses an encoder in the z-axis to precisely control the torch height for initial piercing and cutting height. Once the torch has fired and moved down to its cutting height, the arc voltage is electronically measured and digitized. The system then switches to arc voltage height control, and maintains that same voltage throughout the remainder of the cut.

By sampling and holding the voltage after every pierce, SVHC keeps the nozzle to plate distance constant throughout the life of the electrode. On a standard arc voltage control system, the torch will cut closer to the plate as the electrode wears. This changes the cut quality, and eventually causes torch crashes and premature consumable changes. SVHC maintains consistent cut quality, even as the electrode wears by keeping the nozzle the same distance from the plate. This also allows the electrode to be fully used before change out.

Controlling the SVHC system is simplified with ESAB's Vision T5 touch-screen based CNC. This easy-to-learn controller features a built-in process database, which simplifies plasma torch setup through a simple touch-screen process selector. It also integrates perfectly with ESAB's m3 plasma system, which features the most advanced gas control system in the industry. The operator simply selects the material type and thickness, and the Vision T5 CNC automatically selects and mixes the optimal start, cut and shield gas combination.

SVHC is integrated tightly with the Vision T5, which gives the operator visual feedback from all of the peripheral devices. The Vision T5 displays the actual and measured arc voltage for each plasma station. It also shows the amount of arc voltage correction, giving the operator a visual indication of electrode wear so he can see when the consumables need to be changed.