AVIC buys 60% in ship investment firm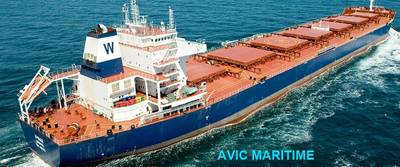 AVIC International Maritime Holdings is in the process of acquiring 60 per cent in a Singapore-incorporated ship investment firm for $3.6 million.
The Singapore-listed firm, as per a regulatory filing, will acquire three million issued and paid-up shares, in AVIC Zhenjiang Shipyard Marine Pte. Ltd (AZM) that is 60 per cent owned by Catico Investments and 40% by Jiangsu Zhenjiang Shipyard (Group).
Jiangsu Zhenjiang Shipyard will continue to own 40 per cent of AVIC Zhenjiang, which generated RMB88.7 million in revenue and earned RMB10.9 million in 2014.
AZM is in the business and trade of acquiring, owning, selling, brokering and chartering of various types of vessels, including but not limited to tugboats and offshore vessels. It invests in vessels by taking up equity stakes.
"The company is of the view that the proposed acquisition represents a strategic and long-term investment which is in the interest of the group and will help the group move one step closer to its ultimate goal of becoming a major player in the global shipping industry," AVIC International Maritime, added in its regulatory filing.