Towboat Invitational Raises $295k for Charity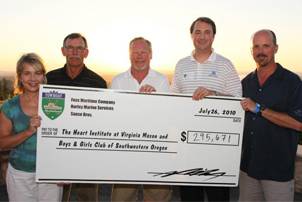 On Monday, July 26, Foss Maritime, Harley Marine Services and Sause Bros. sponsored the 11th annual Towboat Invitational at The Golf Club at Newcastle. The tournament brings together almost 300 people in the towboat industry all raising money for two deserving organizations, The Heart Institute at Virginia Mason Medical Center and the Boys and Girls Club of Southwestern Oregon.

Towboat 2010 was another sold out tournament despite the economic downturn within the marine industry. High spirited guests were ready to make a great contribution to the benefiting charities by participating in games and challenges on the course, the first ever Towboat Bingo and both the silent and live auctions. The day's events raised a remarkable $295,000 for the nonprofit organizations. All net proceeds directly benefit Boys & Girls Club programs and new equipment for The Heart Institute at Virginia Mason.

Since its inaugural event in 2000, Foss Maritime, Harley Marine Services, Sause Bros. and all other participating marine transportation companies have helped raise more than $1 million. All contributions are meaningful and appreciated.