Incat Crowther Works on New Yacht Project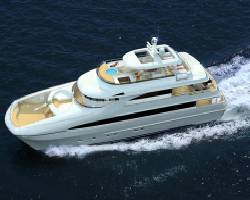 Incat Crowther is pleased to announce its involvement in a new motor yacht project. The Curvelle quaranta is a 33m Catamaran yacht currently under construction that has brought together a team of world leading design and engineering firms to create a modern, flexible and efficient yacht concept.
Logos Marine is managing and coordinating all aspects of the build at the Istanbul yard, whilst Lila-Lou of London is responsible for exterior styling and interior design. Composite engineering will be performed by SP High Modulus.
The vessel will offer owners a new level of functionality, with 6 large cabin spaces are located on the main deck. Each of these spaces can be configured as twin or double staterooms, or combined with the adjacent spaces to create 3 large suites.
Crew accommodation and service spaces are provided in the hull, whilst a large lounge and dining space occupies the upper deck aft of the wheelhouse.
Incat Crowther brings their wealth of experience to the project by providing a full naval architecture package.
The vessel will be powered by a pair of Caterpillar C32 Acert main engines, each producing 1417kW at 2300rpm. The shaft line will consist of ZF3050 gearboxes and a pair of fixed-pitch propellers. The vessel will have a maximum speed of 25 knots, and will cruise at 23 knots. Incat Crowther has used its extensive experience to engineer a vessel that is optimised for efficient cruising and optimum range, with a stated aim of Trans-Atlantic cruising.
Incat Crowther is pleased to be a part of this project team, bringing a wealth of experience and knowledge to the project, which in turn will deliver a highly efficient and comfortable yacht that will carry the Curvelle brand.