Yacht Rescue Involves Cutter in Long Tow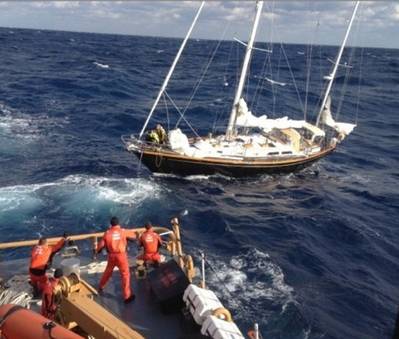 The Coast Guard cutter 'Block Island' has completed a 150 miles tow over a 32-hour period of the disabled 54-foot yacht 'Zulu' with 3 persons on board during bad weather off the coast of North Carolina.

The captain aboard the Zulu initially contacted Coast Guard Sector North Carolina watch-standers via satellite phone to report that the sailboat was disabled and adrift with three people aboard approximately 100 miles east of Oregon Inlet, N.C.

In early course the Coast Guard Cutter Block Island arrived on scene, but due to heavy weather could not take the Zulu in tow until conditions had improved. Eventually the cutter succeeded in getting a line across and towed the yacht to the mouth of Chesapeake Bay, where a 45-foot Response Boat-Medium crew from Coast Guard Station Little Creek took up the tow and moored the vessel at Cobb Marina in Norfolk.

"This multi-day response illustrates the absolute dedication of Coast Guard crews to the safety of mariners in distress," said Capt. John Little, commander of Sector Hampton Roads.