Israeli-linked Ship Attacked in Arabian Sea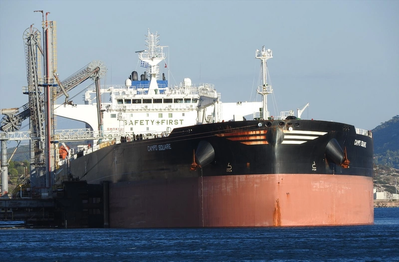 An Israeli-linked tanker was lightly damaged in an attack last week by an airborne object while sailing through the Arabian Sea, the ship's manager confirmed on Saturday.
Regional defence and security sources suspect the assault was carried out by Iran, which did not comment on the incident. Tehran has rejected accusations it was behind similar attacks in the past few years.
The Liberian-flagged Campo Square had no cargo when it was hit late at night on Feb. 10, about 300 nautical miles off the coasts of India and Oman, the manager said in a statement.
Shipping databases linked the tanker to Zodiac Maritime, which is controlled by Israeli shipping magnate Eyal Ofer.
"We can confirm that both the vessel and crew are safe and proceeding as per planned passage. There is minor damage to the vessel. We have made the necessary notifications to the relevant authorities," the manager said.
The attack came during antagonism between Iran and the West over Tehran's nuclear activity and its supply of arms - including long-range "suicide drones" - for Russia's war in Ukraine, as well as months of anti-government demonstrations at home.
British maritime security company Ambrey Intelligence said unmanned aerial systems had attacked two tankers and one bulk carrier in the Arabian Sea and assessed that Tehran had mounted the attack. Two of the merchant vessels were Israeli-owned, it said, and one was Emirati.
(Reuters - Reporting by Jonathan Saul and Ari Rabinovitch, Editing by Angus MacSwan)