Jo-Kell Wins World Class Supplier Award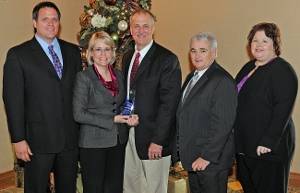 Jo-Kell Inc., an electrical distributor and engineering company was recognized for their outstanding performance and support of Northrop Grumman Corporation's Socio-Economic Business Programs (SEBP). The award was presented on December 4, 2009 at the company's annual recognition event in Redondo Beach, Calif. Jo-Kell CEO, Suzy Kelly and President, Marty Kelly accepted the award at the event.

Northrop Grumman annually recognizes companies with the World Class Supplier Award who consistently demonstrate responsiveness and flexibility to help meet Northrop Grumman's needs with a high quality of work, on-time delivery, outstanding cost management and reliable performance.

Jo-Kell is one of only a few LEAN Certified suppliers for Northrop Grumman Newport News. LEAN incorporates principles of identifying value, eliminating waste and improving processes.