Knightsbridge, Frontline to Form US Capesize Company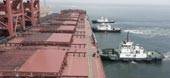 Knightsbridge Tankers Limited and Frontline 2012 Ltd. have announced an agreement to combine Frontline 2012's remaining fleet of 25 fuel efficient vessels with Knightsbridge. The newbuildings have expected deliveries between September 2014 and September 2016, with five vessels delivering in 2014, 14 vessels in 2015 and six vessels in 2016. Knightsbridge recently acquired five Capesize newbuildings from Frontline 2012 and one vessel from Hemen Holding Ltd. The combination of Knightsbridge and Frontline 2012 Capesize fleet will create the leading US listed Capesize company with a unique fleet of 39 modern vessels.


Under the agreement in principle, the exchange ratio for the acquisition and share issuance will be based on NAV using March 31, 2014 broker values. The Knightsbridge/Frontline 2012 exchange ratio will be 44%/56%. Accordingly, Knightsbridge has agreed to issue 62 million shares to Frontline 2012. The closing will be executed in two stages, with 31 million shares expected to be issued around September 15, 2014 and 31 million shares around March 15, 2015. Following the issuance of the shares, Knightsbridge will have 111 million shares outstanding. Including the Knightsbridge shares already owned by Frontline 2012 and Hemen, Frontline 2012 will own 70%, other existing Knightsbridge shareholders 27% and Hemen 3% of Knightsbridge.


It is expected that Frontline 2012 will distribute its shares in Knightsbridge to its shareholders over time.


The transaction is subject to execution of definitive documentation, normal closing conditions and regulatory approvals. The transaction will also be subject to consent from Knightsbridge's shareholders to increase the Company's authorized share capital to enable and approve the issuance of the new shares to Frontline 2012.


The net remaining estimated Capex of the 25 Capesize newbuildings is $894 million. Assuming average debt of around $33 million per vessel the newbuilding program in Knightsbridge is expected to be fully financed. The Knightsbridge's Board of Directors will seek to optimize Knightsbridge's capital structure following the transaction to achieve cash breakeven rates below $15,000 per day.


The Knightsbridge Board of Directors will seek to grow the Company's dividend per share as the dry bulk market recovers and newbuildings commence operation.


Commenting on the transaction, Ola Lorentzon, Chief Executive Officer of Knightsbridge, stated: "The Frontline 2012 transaction will be a transformative step for the Company and will make us the leading US listed Capesize owner. With a fleet of 39 modern vessels, of which 34 are "Eco design" fuel efficient vessels, which could achieve higher time charter equivalent earnings than existing vessels in any market situation and a targeted breakeven rate below $15,000 per day, we are setting the groundwork to be in a unique position to benefit from an expected dry bulk market recovery. As the market recovers we expect this transaction to be highly accretive to our cash flow per share and give us the ability to pay high dividend to our shareholders."


The Chairman of Frontline 2012, John Fredriksen, said, "We are very pleased to be able to enter into this transaction with Knightsbridge for the remaining Capesize fleet of 25 newbuidings, which is in line with our strategic plan of creating pure plays in different shipping segments through consolidation, divestments and spin offs."