Mightiest STS Konecranes Yet Ordered for Port of Houston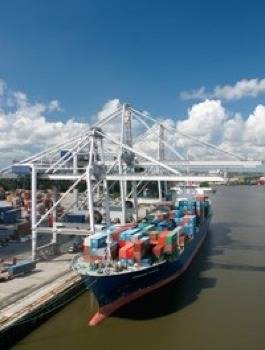 Super Post-Panamax STS (Ship-to-Shore) cranes ordered by the Port of Houston Authority will be the biggest STS ever manufatured by Konecranes.
The order includes four Super Post Panamax STS (Ship-to-Shore) cranes and three RTG (Rubber Tired Gantry) cranes. The STS cranes will be shipped to to PHA's Barbours Cut Terminal in late 2014 and supplied during the first quarter of 2015, while the RTGs will be delivered to Bayport Terminal in spring 2014.
The STS cranes ordered are semi-automated and come with Konecranes' AC frequency control system. They include the latest features, such as the Ship Profiling System, the precision controlled Trim/List/Skew system and LED lights for improved eco-efficiency. The cranes can serve ships of Super Post Panamax size, ie. container ships that are 22 containers wide. They have a lifting capacity of 66 tons, an outreach of 64 meters and have twin lift operation for maximum handling capacity.
The Port of Houston Authority is the largest container port in the Gulf of Mexico. It is responsible for eight cargo terminals and one cruise terminal along the Houston Ship Channel and handles millions of tons of cargo a year. Konecranes delivered its first RTGs to PHA in 2003 and at present PHA has 49 Konecranes RTGs in its fleet.

"We have a long history with Konecranes," said Roger Guenther, the Port Authority's Deputy Executive Director, Operations. "We expect the cranes to be of the highest quality and productive for decades to come."