Kuwaiti Coast Guard Orders 29 Vessels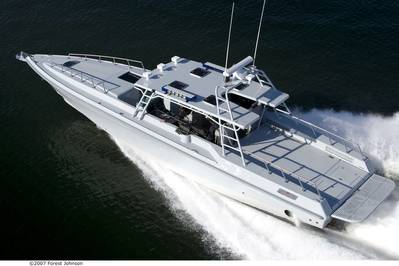 The Kuwaiti Coast Guard ordered 29 new 44-foot fast coastal interceptor-class (FCI) vessels from Tampa Yacht Manufacturing LLC.
For the new builds, the Kuwaiti Coast Guard specified total
drive solutions from
Twin Disc, featuring Arneson ASD11 surface drives and Rolla propellers.
Powered by dual MAN R6-800 turbo-charged engines, developing a total power of 1,600 horsepower, 44-FCI has a top speed exceeding 55 knots at full load, due in part to the surface-piercing design of its Arneson Surface Drives. The propulsion units reduce the appendage drag by 50 percent compared to conventional submerged systems. With its matched, five-blade nibral Rolla propellers, the craft sees quicker acceleration and a better payload-to-power ratio. Fast operation stability is enhanced with trim tabs from Twin Disc.
The 44-FCI employs Twin Disc's MGX-5114 A QuickShift marine transmissions, matched EC300 Power Commander Electronic Control and bow thruster.
The trailerable 44-FCI features carbon-fiber-reinforced, all-composite construction with NIJ Level IIIA ballistic protection on the cabin. Designed for a crew of four to six, it utilizes shock-mitigation seating to reduce fatigue and features a broad range of weaponry and
electronics
.
tampa-yacht.com
twindisc.com