First of Six WWS PSV's Launched by Damen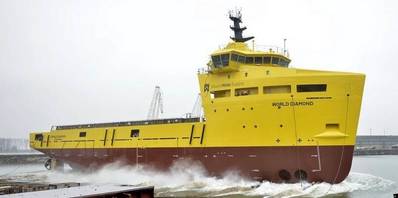 First PSV 3300 'World Diamond' launched for Norwegian offshore company World Wide Supply (WWS).
Damen Shipyards Galaţi (Romenia) has launched the World Diamond, the first of a series of Damen´s newly designed range of PSV 3300 platform suppliers.
Like the other five ships, the World Diamond is built and completed in Galati in cooperation with Damen Shipyards Gorinchem (The Netherlands) which provides the design, engineering and main equipment.



The main purpose of the vessel is transport of different cargoes (fuel, drinking water, salt brine, cement, barite, drilling mud, drilling pipes, etc.) and crews to and from offshore drilling rigs and production platforms in support of hydro carbon exploration and production activities. The PSV 3300 can also carry conventional containers on deck for diverse cargo. Furthermore, this DP2 platform supplier has fire-fighting capabilities and is provided with oil recovery equipment.
Main particulars:
• Total length 80.10 m

• Breadth 16.20 m
• Draught 6.15.m

• Deadweight approx. 3300 t
• Max. weight on deck 400 t

• Classification Society LRS (Lloyd Register of Shipping)
• Crew + passengers 16 + 6 persons

• Speed 13,7 knots

The PSV 3300 CD fulfils the latest requirements of Clean Design and Environmental Protection standards of the major classification societies.