Open Ocean Launches Maritime Security Program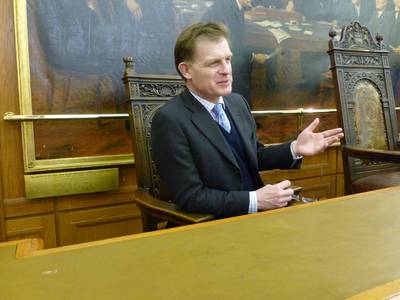 Aboard the HQS Wellington in London yesterday, Chenega UK Ltd. launched its fully integrated maritime security system to combat piracy and provide the ship owning community with a holistic, single point of contact security program to mitigate the risk of piracy.
The system was received with excitement by the shipowners, managers, insurers, flag states and others engaged in transporting more than 90% of the world's goods, as "currently, it is the maritime industry itself that is being held hostage", stated an Open Ocean representative.

The shortfalls currently facing the maritime industry include navigation, hardening of ships and loosely organized security teams. "Despite quantities of open source information being available owners and navigation teams appear to occasionally make some very odd decisions including sailing significant additional distances without adding to safety," observed Open Ocean's Mike Powell, formerly Head of Tanker Operations for ST Shipping & Transport as well as Global Head of Vessel Operations for BP. "At best failing to use information and intelligence intelligently burns vast amounts of additional fuel and adds time costs unnecessarily, at worst, it can put ships and seafarers at risk."

Chenega UK Managing Director Murray Hammick added "The shipping world has had to deal in a piecemeal fashion with the realities of piracy and related crimes against their seafarers and ships with little support from the establishment (however that is defined), and it is somewhat inevitable that the provision of maritime security has been a rather haphazard affair in the circumstances.

A few years ago we in Chenega had the undoubted luxury of being able to take a 60,000 foot view of the problem and, from the perspective of a defense corporation with expertise in the fields of IT, data collection and processing, security and operational planning and support, so we set out to see what a comprehensive, top-down maritime security solution might look like. This was the genesis of Open Ocean.". Hammick continued: "Our first impression was that owners and charterers wanted someone to take the whole problem of sourcing and managing security off their shoulders. They wanted a single point of contact and also contract for intelligence, surveys, security teams etc. We asked ourselves how comfortable a multi-billion dollar company might be when facing a public and international inquiry into the actions of a security team on one of its ships. Risk management is an important criteria for ship owners."

The launch was attended by global representatives of the shipping industry who pressed for clarification on Open Ocean's "right to operate". Mike Powell replied that Chenega would not have risked its corporate reputation with its Federal partners unless there was complete confidence in Open Ocean's capabilities. Chenega Vice President of Business Operations for the Strategic Business Unit handling Military, Intelligence and Operations Support affirmed their commitment to Open Ocean: "Chenega has its corporate basis in intelligence and command and control infrastructure, and we see the issues of piracy as a prime example of where intelligence can benefit industry to combat a problem that threatens global trade. Chenega is 100% behind this effort and we look forward to participating in Open Ocean's success in contributing to the safety of shipping and its transport of more than 90% of the world's goods."

When asked how Open Ocean benefits shipowners, Mike Powell replied: "Quite simply, it represents a credible outsourced comprehensive security solution already subject to rigorous external controls. It has the right capabilities and backing."