STX Marine attends CSS Derwent's Launching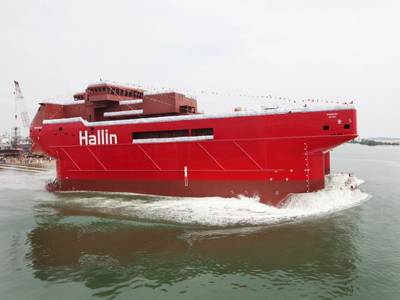 STX Marine is pleased to report the launching of Hallin Marine's Compact Semi-Submersible, CSS Derwent. The event took place at Drydocks World Nanindah's yard in Batam, Indonesia. The CSS Derwent was launched on 5 June 2012 and has an expected delivery at the end of 2012.
The CSS concept has been developed by STX Marine, in partnership with Hallin Marine; Minnow Marine Projects Limited and M3 Marine, over a five year period to capture the capabilities and low-motion behavior of a semi-submersible vessel in the smallest form feasible, giving an industry-leading design in terms of operability. The CSS Derwent's primary functions will be well intervention, well stimulation and subsea installations. Classed by the American Bureau Shipping as a Column-Stabilized Drilling Unit, the CSS Derwent is diesel-electric powered with DP-3 capability, has a complement of 152, and an endurance of 45 days. With a transit speed of up to 12 knots, the CSS Derwent is capable of operating in any of the world's oceans.
The CSS Derwent is a twin hulled vessel of a semi-SWATH configuration, and features diesel electric propulsion with an azimuthing thruster at the ends of each hull. The twin hull platform provides a large stable work deck area with a long laydown area and low motions. The vessel is fitted with a 150T AHC subsea crane and a 160T AHC guided modular handling system operating through a moonpool, as well as a 120T pallet skidding system. To support subsea operations, two ROV handling systems are provided, one through another dedicated moonpool and another over the starboard side.
In addition to the CSS Derwent, STX Marine currently has two other design contracts for CSS vessels. These CSS vessels are being built by Fujian Mawei Shipbuilding Ltd in China with an expected delivery dates in the first quarter of 2013 and the end of 2013.