Luxury Yacht Seized in Money Laundering Probe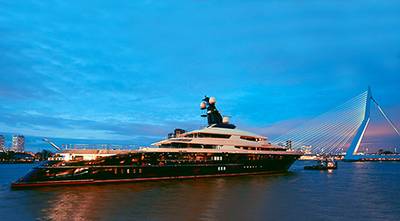 Indonesian police on Thursday questioned the captain and crew of a luxury yacht in Bali at the request of U.S. authorities, probing alleged money laundering at a Malaysian state fund, they said.
The yacht was impounded in Bali on Wednesday amid a multi-billion dollar corruption investigation launched by the U.S. Department of Justice (DOJ) and tied to Malaysian state fund 1Malaysia Development Berhad (1MDB).
Police seized the yacht, Equanimity, after receiving a letter on Feb. 21 from the U.S. Federal Bureau of Investigation (FBI) requesting help to enforce a court order, Indonesian National Police Spokesman Muhammad Iqbal Abduh said.
Police had questioned the captain and crew and would check their immigration papers and see if there was any evidence of a crime being committed, Abduh said in a statement.
Citing information provided by the FBI, he said the yacht's Automated Identification System (AIS) had been switched off several times in waters around the Philippines and Singapore.
The AIS system uses satellites to pinpoint locations and switching it off would make it harder to detect the vessel.Over the past 180 days, the Equanimity sailed from the northeast to the northwest of Malaysia and Singapore, and then from the Indonesian island of Bali to Papua and back again, according to shipping data on Thomson Reuters Eikon. There are several points where its movements are unclear.
1MDB is at the center of money-laundering probes in at least six countries, including the United States, Switzerland and Singapore.A total of $4.5 billion was misappropriated from 1MDB by high-level officials of the fund and their associates, according to civil lawsuits filed by the DOJ in the past two years.Malaysian Prime Minister Najib Razak set up 1MDB in 2009 and previously served as chairman of its advisory board. He and the fund have denied any wrongdoing.
In August 2017, the DOJ asked for a stay on its civil lawsuits seeking to seize more than $1.7 billion in assets allegedly bought with stolen 1MDB funds because it was conducting a related criminal probe.
Among the assets sought is Equanimity, cited as a $250 million luxury yacht bought by Malaysian financier Jho Low, named as a key figure in the U.S. lawsuits.
The lawsuits said Low used proceeds diverted from 1MDB to buy Equanimity, which it described as a 300-foot (91-m) yacht registered in the Cayman Islands.
The head of the National Police special crimes investigation unit said Indonesian authorities were not looking for Low.
"We have an obligation to search for all on the wanted list or (anyone) included on an Interpol red notice. But I have not seen the name," Agung Setya told Reuters.
Low's whereabouts are unknown and his Hong Kong company has not responded to requests for comment.
A spokesperson for Low was quoted by Malaysia's New Straits Times daily on Thursday as saying it was"disappointing that, rather than reflecting on the deeply flawed and politically motivated allegations, the DOJ is continuing with its pattern of global over reach - all based on entirely unsupported claims of wrongdoing."

(Additional reporting by Fergus Jensen and Rozanna Latiff; Writing by Ed Davies; Editing by Nick Macfie)