Young Leaders Mingle at Tognum's Youth Future Forum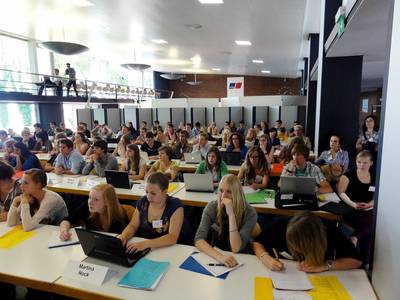 125 young German people with the potential to become future leaders came to Tognum's third 'Youth Future Forum' in Friedrichshafen
The event was hosted for the third time by Tognum, the propulsion and power solutions specialist, and organized in conjunction with Young Leaders GmbH. 

The three-day forum centered on the following questions:
What does an internationally operating company like Tognum offer young people in terms of future strategies and opportunities for development? What are the challenges of the globalized world?
The three-day forum centered on these key issues, as well as on meetings between young people and executives, a tour of Tognum's facilities, and a lively exchange of opinions and ideas.
"Promoting the next generation of executives and experts is a must. We need young leaders because they are our future. They are also fired by enthusiasm and can move our company forward." That was the opinion firmly shared by Norbert Veser, head of development, and Regine Siemann, personnel marketing chief at Tognum.
Coming from as far away as Usedom in the north to Berchtesgaden in the south, the young aspirants between the ages of 15 and 22 who are about to start their careers also work on a voluntary basis, which means that they have become role models and knowledge multipliers at a very early age.
Ann-Kathrin Bopp from Friedrichshafen enthused: "I learnt a lot about all the different kinds of expertise needed to run a company. It was a great event which I would highly recommend."