Viking Life-Saving Equipment Expands to Panama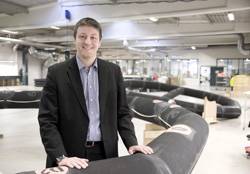 VIKING has announced the next step in its continued global expansion with a Latin American sales and service facility at Colon, Panama.

Leading marine safety equipment provider VIKING Life-Saving Equipment has announced the addition of a Latin American sales and service facility located at Colon, Panama on November 1, 2011. The move to establish a presence in Panama is another step towards fulfilling VIKING's goal of expanding its network to include more service and stock points around the globe. The Colon facility is the latest in a long line of worldwide locations equipped to represent VIKING's entire line of products including on-board services for lifeboats and marine fire equipment. The new location makes both the highly successful global service solutions such as the VIKING Shipowner Agreement and the wide range of quality marine safety equipment available to maritime operators in yet another important geographic location.

According to Henrik Uhd Christensen, the CEO of VIKING, the new facilities in Colon are an important step forward: "It's part of VIKING's focused commitment to serve our customers as volume and traffic grows with the expansion of the canal in 2014. The addition of operations in Panama will allow us to service key shipowner customers arriving to port in Panama or transiting the Canal." The new 14,000 square foot facility is situated in Panama's Colon Free Zone (C.F.Z.), the world's second-largest free zone and a sprawling complex at the Atlantic gateway to the Panama Canal dedicated to the re-export of an enormous variety of goods to Latin America and the Caribbean. "We chose the C.F.Z. for our new facility because it is a vibrant hub serving an increasingly globalized economy," said Henrik Uhd Christensen, VIKING's CEO. "It's an obvious choice for our strategy of being where our customers need us."