New Literature Showcases HDOCB Support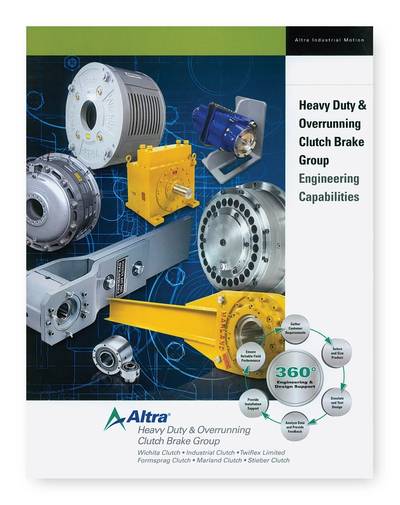 Altra Heavy Duty & Overrunning Clutch Brake group (HDOCB) has published a new brochure that gives engineers an overview of the engineering support provided by Altra brands including Wichita Clutch, Industrial Clutch, Twiflex Limited, Formsprag Clutch, Marland Clutch and Stieber Clutch.

Services covered include product sizing and selection assistance, rapid prototyping, design simulation and testing, data analysis and sharing, installation support and field performance checks. A complete list of tests is provided, including temperature and immersion, as well as testing apparatus available, featuring the largest rig in the industry.

The brochure explains how market-focused engineering teams utilize the most advanced engineering tools and materials available to provide innovative standard, modified-standard or fully-customized products designed for years of reliable service.

The brands of Altra Industrial Motion's Heavy Duty & Overrunning Clutch Brake Group are multinational designers and producers of advanced backstops/holdbacks, brakes, caliper brakes, clutches, overrunning clutches and combination clutch/brakes. The HDOCB group serves a wide range of industries including metals, oil and gas, mining, marine, elevators, aerospace and defense, material handling and packaging machinery.

The brochure is available for download at altraheavyduty.com.