Lloyd's Register CEO Addresses Quality and Safety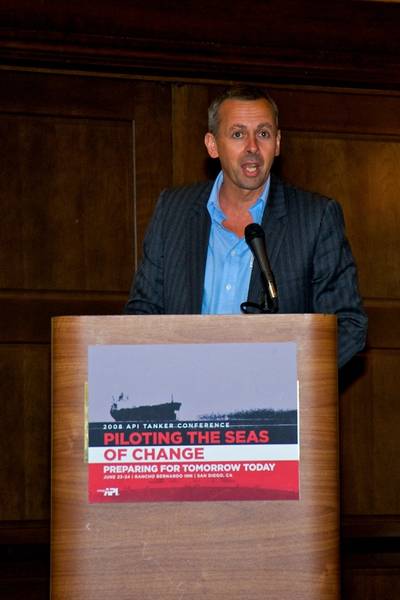 Speaking at the API Tanker Conference in , Lloyd's Register's CEO Richard Sadler spoke about the future of quality and safety in shipping.
"Class is vital to the quality and safety system in world shipping," Sadler said.
The greatest improvements in marine safety and performance will now come about by ensuring that shipbuilders, operators and regulators are making the right decisions at all stages in the life-cycle of ships. Looking at where class efforts need to be concentrated Richard Sadler said that Lloyd's Register is increasing its capability to provide the support, systems and guidance for shipbuilders, operators and regulators beyond the traditional role of class. "We have been doing this for many years. We will be doing more of it. Training and guidance with management systems and standards are critical areas of work."
"Class and Lloyd's Register have a vital role to play in supporting the continued development of the maritime quality and safety system. Technical innovation is still critical and our future depends on this. But innovation today and in the future will be just as much about applying our experience to supporting behavioural changes and helping to develop marine management competency across the industry as in ensuring that ship's structures are sound. "
Sadler reminded the audience that class is an audit system that relies on baseline management competence. With pressure on the whole industry to maintain those basic levels of competency and operational management throughout the whole asset lifecycle, the pressure on class becomes ever greater.
He stressed that attacks and regional approaches to legislation undermine the quality system in shipping and he also addressed the issue of class ownership: "The current leading classification societies have different ownership structures and in the future this may prove to be an issue. At Lloyd's Register, our independence is our greatest asset. We have no shareholders. No-one can take us over. We have no national interests to protect, national agencies to support or domestic shipbuilding industry to support. We support shipping and shipbuilding world-wide. Our surplus income is our own to be invested in research, development and people. Independent classification societies will be in the best position to provide support to the development of safety and quality standards in shipping. However demands from the industry may force efficiency driven consolidation to ensure that support levels can be maintained effectively." 'People are the best technology'
Tomorrow, Lloyd's Register's Human Elements Specialist, Andrew Sillitoe, introducing the "Human Elements" panel session at the API Conference will identify the 'gaps' in human element issues in marine management.
Human element issues are rarely out of the shipping media or off the lips of industry leaders at the moment. Encompassing a wide span of topics, from navigation accidents to recruitment and retention, the consequence of problems may be very different, but the underlying causes are not always so very different.
Sillitoe has been invited to set the scene for discussions by introducing the key human element issues affecting today's industry. He will stress that it is important to remember the successes of shipping today, in the tanker sector and elsewhere. But also to recognise that there is scope to improve. There can be gaps between what needs to happen and what actually happens. By considering these gaps, we can start to think about how to manage people more effectively.
This is especially so when looking at systems: considering the influence of the management ashore, and the full lifecycle of a ship, from concept, design and build and operations.
Mr. Sillitoe's main point will be a deceptively simple one. We need to remember why we use the phrase "human element". Overall, it is about people in systems; the people part of the maritime system. In any system, if the parts don't integrate properly, the system won't work. There are certain requirements to integrate people into systems, whether at a ship level, a fleet level, a sector level, or the level of the whole industry. In looking for solutions to many of shipping's problems we need to remember that the right people doing the right things at the right time with the right tools may be the best technology.