LNG-powered Viking Grace Re-defines Ferry Travel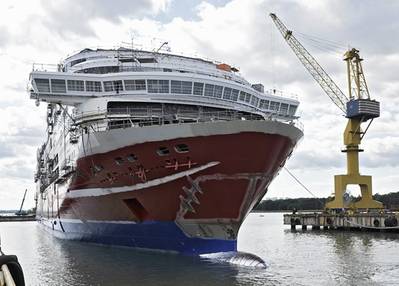 Lloyd's Register significantly helped the vessel's owners & builders work through the complexities of 'Viking Grace's' novel design features.

Finland's Viking Line recently notched up a world first when it launched Viking Grace, the most environmentally friendly large passenger ship, at STX Finland Turku shipyard.

The 56,000 gt vessel is powered by LNG and generates no marine emissions and very few air emissions. The vessel has been designed to operate in the delicate and environmentally sensitive waters of the Baltic Sea where she will operate between Turku and Stockholm from January, 2013.

The classification society was involved in the details of LNG tanks on the stern deck, the four Wartsila 8L50DF engines, and to meet regulatory, class and operational requirements.

The Viking Grace will be Viking Line's new flagship, and it is underdstood that there is nothing else either being built or even ordered yet that comes close to the energy requirements of this ship.