Water Mist in Large Machinery Spaces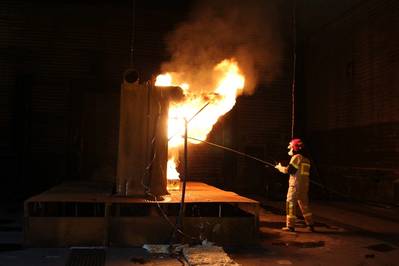 Water mist systems are extensively used as fire protection of machinery spaces onboard passenger ships, and have almost taken over as fire extinguishing systems after IMO standardized such systems. Water mist systems are documented through full scale fire testing of the manufacturers' solutions. In practice it has been shown that in spaces with a ceiling height above approximately 10m it is necessary with more water mist nozzles to extinguish low seated fires. The IMO-method that describes the test procedures requires that all nozzles are mounted at ceiling level, and gives no opportunity to extrapolate results from fire tests to spaces with higher ceiling heights.

Conventional merchant vessels have large machinery spaces with ceiling heights above 10m. Therefore it is still common to install CO2-systems in these ships, since no alternative extinguishing systems are approved for this application area. Until now several manufacturers of water mist systems have documented that it is possible to extinguish fires in machinery spaces with height up to 10m and a volume exceeding 3,000m3. A research project initiated by IWMA (International Water Mist Association) resulted in a change of IMO's regulations. That means that the test results will be valid also for spaces up to twice the tested volume, but there was not given any possibility to increase the ceiling height.

If it can be shown through testing that water mist systems have sufficient ability to fight fires in larger machinery spaces, such systems will challenge and replace CO2-systems. In practice this means that fire extinguishing can start immediately after a fire has been detected. Today the start of extinguishing may be delayed with 10-15 minutes because CO2 represents a toxic hazard to persons in the machinery space. The CO2 cannot be released before people are evacuated from the engine room and all air supply is stopped and all openings are closed. Every minute with a fire in the machinery space increases the damage to equipment and cables; it has been indicated that the damage increases with €12,000 per minute.

Water mist systems can be released immediately after fire detection, and will quickly cool down the machinery space. Most fires will be extinguished after 10-15 minutes. In addition water mist systems have become popular among engineers and crew because they, besides being possible to use without hazard to people, are easy to test regularly. Water mist systems on passenger ships are often tested every week, and are simultaneously used for cleaning the machinery space. The costs connected to refilling the water reservoir are negligible in contrast to replacement of CO2-bottles after release of a CO2-system.

SINTEF NBL is now working to start projects that can open up for use of water mist system in large machinery spaces, and for this purpose we have the possibility to utilize our large test hall. The test hall is over 20m high and has a total volume of approximately 14,000m3.