MTU Reman Builds on 175 Year Magdeburg Tradition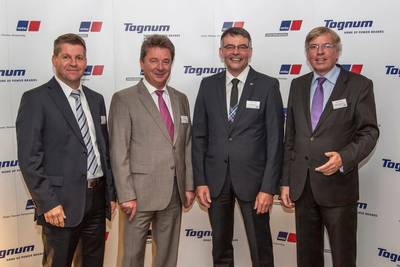 The name 'MTU Reman Technologies' might be new in the city of Magdeburg, Germany, but behind the Tognum subsidiary that remanufactures large diesel engines lies 175 years of industrial history.
On September 6 and 7, MTU Reman Technologies celebrated this anniversary, by holding a special ceremony and opening its doors to the public. Hartmut Möllring, Minister of Science and Economic Affairs in the federal state of Saxony-Anhalt, pointed out: "Machinery and plant engineering have very deep roots in Magdeburg. The Magdeburger Dampfschifffahrts-Compagnie (Magdeburg steamer company), founded in 1838, played a central role. Although it went through many changes of name and owner, its engineering prowess remained undisputed. Now, 175 years later, the sequel to its success story is being written by MTU Reman Technologies."
The Magdeburger Dampfschifffahrts-Compagnie was set up in 1838 to provide an inland waterway link between the cities of Magdeburg and Hamburg. In the decades that followed, under the name of 'Maschinenfabrik Buckau R. Wolf AG', (R. Wolf Engineering Works Buckau), it became a leading manufacturer of traction engines for industry and agriculture.
Operating from 1954 under the name SKL (standing for Schwermaschinenbau Karl Liebknecht or Karl Liebknecht heavy machinery in English), it was one of the biggest engine manufacturers in the former eastern bloc. In 1970, it was nominated lead plant of ten other enterprises in an industrial combine set up a year before in the field of diesel engines and plant machinery. As lead plant, SKL generated two-thirds of the combine's overall production.
After being taken over by Tognum subsidiary MTU Friedrichshafen in 2008, the company was re-structured as a technology center for the remanufacturing of MTU engines. 'Remanufacturing'—or 'reman' for short—means the restoring of engines and major components to as-new condition in a standardized industrial process. The innovative processes developed in Magdeburg are used in standard remanufacturing at all of Tognum's remanufacturing sites worldwide.

A special activity at MTU Reman Technologies is its research and development work in the field of combustion processes on diesel and gas engines. This takes place at single-cylinder test stands and is conducted in cooperation with the Otto-von-Guericke University in Magdeburg and with WTZ Roßlau, a science and technology research enterprise in the field of engines and machinery. R&D activities in particular are putting the spotlight on the gas engine, destined to gain ascendancy as the engine of the future.

Pictured from L to R: Martin Wendel, Vice President Service Operations & Logistics Tognum AG, Dr Lutz Trümper, Mayor of Magdeburg, Wilfried Probian, Chief Executive Officer MTU Reman Technologies and Hartmut Möllring, Minister of Science and Economic Affairs in the federal state of Saxony-Anhalt.