Mammoet to Debut Ballast System at OTC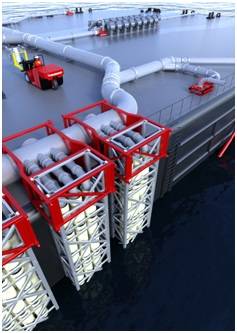 Mammoet, a global company in Engineered Heavy Lifting and Transport, announced that it will introduce its new Versatile Ballast System during the Offshore Technology Conference (OTC) in Houston.

As Mammoet points out, the installation of offshore platforms by float-over-method can be time consuming and costly. Now, Mammoet introduces an improved ballast system that simplifies and combines ballasting for load-out and float-over operations: the Mammoet Versatile Ballast System, a fully modularized system that is easily installed and fits any barge without the need for modifications. The system utilizes one equipment setup that is able to perform both ballasting operations, shortening the period for installation and decommissioning of the system on the barge, ultimately saving on barge rental time, Mammoet said. Depending on other float-over preparations, it can also accelerate the installation time to get the platform in production up to one week earlier.

According to the manufacturer, the Versatile Ballast System eliminates the need to convert the ballast system after load-out. This time-saving can speed up the platform production date by up to one week (depending on other float-over preparations). It can be installed within two weeks, using a minimum of equipment, manpower and space. The main part of the installation can be performed on the quayside. This can save up to five weeks of barge rental time, but the actual time-savings differ per project and depend on other preparatory activities that need to take place on the barge. Decommissioning of the system is also faster; adding a further two – three weeks of time-savings, compared to the conventional approach.

The Versatile Ballast System has been designed with efficiency and safety in mind, its manufacturer said. The system is modular, fully containerized and contains standard elements, simplifying transportation and reducing installation time. Additionally, the system is operated and monitored from a central control system by skilled Mammoet specialists.