Wilson Ship Management, WSS Signs Service Fleet Agreement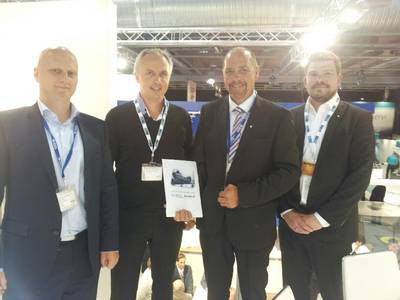 Wilhelmsen Ships Service (WSS) finalized a five-year Safety Service Fleet Agreement with Wilson Ship Management (WSM), sealing the deal last week in Oslo at Norshipping. Wilson Ship Management has been testing WSS's new Safety Service Concept over the last 12 months.
"In today's market, we are continually looking for ways in which we can keep costs under control," said Heine Olsen, Fleet Manager at Wilson Ship Management . "The agreement with WSS will allow us to manage costs and at the same time provides a level of predictability in service levels that will ultimately enable us to operate more efficiently."
The contract with Norwegian-based WSM is the first of its kind for WSS. "This agreement is a result of successful team work between ourselves and Wilson Ship Management. We are very proud that Wilson Ship Management has looked to WSS as a partner for the future and pleased that we can now provide them with a specialised safety solution," said Glenn Frederiksen, account manager, WSS.