Veson Nautical Announces Imos6 Bunker Management Phase II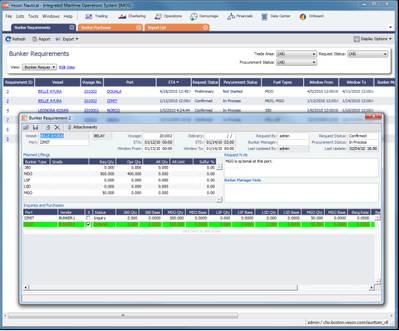 New IMOS6 (Integrated Maritime Operations System) Bunker Management Solution Helps Enhance Voyage Profitability

BOSTON, MA and STAMFORD, CT – March 21, 2011– At the Connecticut Maritime Association 2011 Shipping Exposition today Veson Nautical, the premier provider of maritime commercial management and trading software solutions, announced Phase II of the company's IMOS6 Bunker Management Module. Veson's newest offering helps professionals manage their overall bunker operations, which can account for more than 50% of total voyage costs.

"Bunker management professionals can work with yearly budgets in excess of $300 million, which can represent half of the cost of all voyages, so good bunker management can make or break not only a voyage, but a company's profitability," explained John Veson, president of Veson Nautical. "We developed IMOS6 Bunker Management Phase II after collaborating directly with our customers and users, and incorporated their input into the product. We are pleased to offer our customers a new module that will provide bunker management professionals with the data they need to make the best possible decisions as they interact with charterers, voyage operators, and vessel crews."

IMOS Bunker Management is a cutting-edge tool that helps maintain profitability on every voyage. The module provides complete workflow support for bunker estimates, bunker requests, price inquiries, and purchases. By increasing access to information and performance analysis, the bunker specialist now can make more strategically sound decisions in order to achieve better financial results.

"The Bunker Professional has a high pressure, 24 hour-hour-a-day job, and providing technology that helps them succeed is very important. It is not unusual for bunker specialists to negotiate the purchase of thousands of metric tons of fuel every day, and manage monthly budgets of $25 million or more. So providing a solution that helps improve forecasting and enhance their negotiating position is critically important," remarked Jamie Sheldon, IMOS Product Director for Veson Nautical.

Veson's IMOS6 Bunker Management Phase II effectively aggregates bunker data, allowing operators and charterers visibility across the entire fleet.

Sheldon explains further, "When companies monitor bunker usage by vessel, instead of at the fleet level, they risk missing valuable information. They miss the opportunity to aggregate bunker purchases and increase their purchasing leverage. Phase II ensures those opportunities for competitive negotiation are not lost; it also promotes better evaluation of negotiating results by allowing the specialist to capture market benchmarks along with each purchase. Purchase reporting tools compare prices paid to market benchmarks by port, vessel, operator, and fleet. Visibility across the entire fleet, not just per vessel, means that the bunker desk makes better and more informed decisions."

The Phase II module also supports bunker testing processes for both pre-test and post delivery tests. A work list tracks the status of all outstanding tests, test results are captured in, along with operational details for each bunker lifting.

Key features include:

• Automated bunker workflow and data collection
• Ability to receive bunker requests directly from the vessel or a voyage operator
• Automatic alerts for bunker requests and color-coded notifications for approaching purchase deadlines
• Convienient in-line purchase viewer provides access order status and all lifting details
• User-tailored views for bunker requests, alerts, purchases, and liftings
• Role-based security for operator/bunker manager work processes
• Integrated supplier database with ports serviced and remarks per port
• Extensive reporting for request, purchase, and lifting histories

Business benefits include:

• Improved bunker forecasting accuracy with fleet-wide position analysis
• Ability to negotiate better pricing based on comprehensive purchase histories
• Streamlined bunker desk communications to improve accuracy and throughput
• Improved response time to changing bunker requirements with automated request alerting
• Enhanced tracking and reporting of bunker purchase and lifting details


Along with the new Phase II Bunker Management Module, Veson Nautical's IMOS6 includes: Chartering, Operations, Financials, Planning, Trading, Demurrage, Pooling, Data Center, and Data Services, which can be integrated to build complete solutions for commercial maritime organizations including dry bulk, tanker, LNG, chemical, container, and barge companies. IMOS6 Bunker Management Phase II is available now.

Source: Veson Nautical