Marinevest Shipping Sweden Owned Mt Kirsten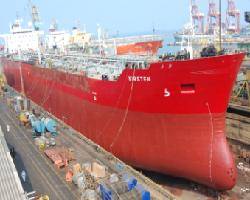 Thome Ship Management, Singapore managed Mt. Kirsten (Dwt 83,631) owned by Marinewest Shipping, Sweden was placed in Colombo for major drydocking and lay up repairs during end January 2011.

Colombo was the best option for the owners/ managers given the strategic location placing the vessel closer to her next employment region. The good track record of Colombo specially for speedy turnaround and quality workmanship, coupled with previous referral on successful repairs carried out on MT. Alihuras (managed by Thome), played a role when managers selected the yard for laying up this massive combined oil and chemical tanker.

The tanker was accommodated in the 125,000 DWT drydock for her repair requirements, prior to drydocking she was accommodated at yard's alongside pier.

The work package to be carried out during this call consisted of: Routine drydocking repairs, surface preparation and coating work (5000 Sqm to SA1/SA2), scattered steel renewal in various locations, overhauling of governors, coolers and fuel pumps. The repairs were carried out meeting the DNV classification society requirements.

The attending superintendent was Mr. R.Muralidhar, while Mr. Rajkrish Kumaran, Fleet Group Manager overlooked the project. The local agents GAC Shipping Ltd. handled the husbanding work during this call.
Source: Nor Shipping