Gulf Energy Maritime Expands; adds Aframax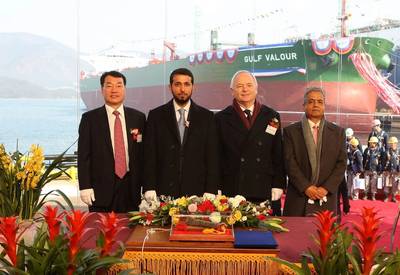 Delivery of second Aframax Vessel cements GEM's optimistic stance in oil tanker industry.
Gulf Energy Maritime (GEM) continues to expand its fleet to better serve its regional and international customers with the delivery of Gulf Valour, its second Aframax vessel. After two months since the delivery of Gulf Vision, their first Aframax vessel, GEM received Gulf Valour, which was also built by Samsung Heavy Industries. Standard Chartered arranged a Korean Export Credit Agency (ECA) to back the vessel's financing. The delivery of GEM's second Aframax vessel reflects GEM's leadership of responding to the market's requirement as the industry gradually improves from the impact of the global financial crisis.
"Prior to the delivery of Gulf Vision, we have been cautious but optimistic on the tanker market. As such, we have constantly maintained our product development and offering as we aim to be a step ahead once the market stabilises and recovers," said Ahmed Al Falahi, CEO of GEM. "It is indeed another milestone for GEM to receive Gulf Valour as we remain steadfast with our commitment of excellence across oceans and responsiveness to the needs of our customers and the market."
Other VIPs and dignitaries present at the ship delivery event were Captain Robert Ferguson, GEM's Head of MSEQ; Ovijit Roy, GEM's Head of Fleet; and Krunal Bhatt - Director Origination & Client Coverage of Standard Chartered Bank. During the acceptance speech, Al Falahi said: "The significance of Gulf Valour's delivery cemented our sound business standing that has gained the trust and confidence of our financial backers and high profile customers. This trust and confidence we received have increased our capacity and capability to deliver to the market such high quality assets and services, and has further elevated GEM's standing in the industry as amongst the top product tanker operators in the world."
Gulf Valour, like Gulf Vision, is equipped with state-of-the-art equipment that meets all international environment safety requirements with a capacity of 114,700 DWT capable of carrying both clean petroleum products and dirty products. Gulf Valour joins GEM's existing fleet which is currently composed of one Aframax, nine modern Panamax tankers, six MR tankers, and three Handysize tankers. Like the rest of GEM's vessels, Gulf Valour will be operated by a team of highly-trained and highly-skilled crew that adheres to our high standards of quality, reliability and environmental safety. More importantly, its size, capacity and capability will open new doors of greater flexibility and better opportunities to further move forward GEM's business goals and targets.
GEM is certified by Lloyd's Register Quality Assurance to the ISO 9001-2000 Quality Management System and ISO 14001-2004 Environment Management System for the operational and technical management of its fleet.