US Coast Guard Marksman Disables Fleeing Boat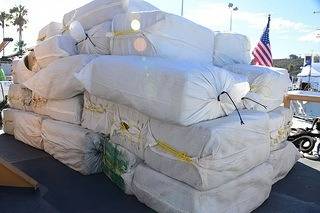 An aircrew from the Helicopter Interdiction Tactical Squadron operating from the cutter Active fired warning shots, followed by engine disabling fire to render a drug-running panga inoperable as it attempted to avoid capture.
U.S. Coast Guard crews intercepted the panga boat with approximately 7,100 pounds of marijuana and three suspected smugglers aboard in international waters some 155 miles southwest of San Diego.
In the most recent incident an aircrew aboard a Coast Guard HC-130 Hercules aircraft initially detected the 30-foot panga and multiple assets, including the Coast Guard Cutters Active and Edisto and a 45-foot Response Boat crew from Coast Guard Station San Diego, responded.

"All our crews, especially those of the cutter Active and the Helicopter Interceptor Tactical Squadron, should be proud of their accomplishments," said Capt. Michael Eagle, 11th Coast Guard District Chief of Response. "In a little more than a week, Active has been involved in stopping two major shipments of illegal drugs."

"The Coast Guard aviators and interceptor boat crews who tracked down, warned, and then shot out the engines of the fleeing pangas in these two cases used their law enforcement training, tools, and techniques to safely apprehend five suspected smugglers and stop the delivery of more than six tons of marijuana," he added.