WNY Victims Honored at Memorial Service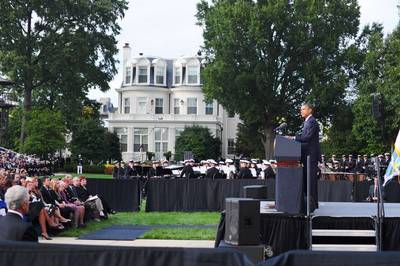 Family, friends and co-workers of the 12 people killed in the Sept. 16, 2013 shooting at the Washington Navy Yard (WNY) gathered for a memorial ceremony at Marine Barracks Washington.

The memorial honored the service and sacrifice those killed in the incident:
Michael Arnold, 59, of Lorton, Va.
Martin Bodrog, 54, of Annandale, Va.
Arthur Daniels, 51, of Southeast, Washington, D.C.
Sylvia Frasier, 53 Waldorf, Md.
Kathy Gaarde, 62, of Woodbridge, Va.
John Roger Johnson, 73, of Derwood, Md.
Mary Francis Knight, 51, of Reston, Va.
Frank Kohler, 50, of Tall Timbers, Md.
Kenneth Bernard Proctor,46, of Waldorf, Md.
Vishnu Shalchendia Pandit, 61, of North Potomac, Md.
Gerald L. Read, 58, of Alexandria, Va.
Richard Michael Ridgell, 52, of Westminster, Md.

President Barrack Obama joined Chief of Naval Operations Adm. Jonathan Greenert, Secretary of the Navy Ray Mabus and Secretary of Defense Chuck Hagel on stage to speak and reflect on the tragedy that unfolded nearly a week earlier.

"You and your family, this Navy family, are still in the early hour of your grief," said Obama. "And, I am here today to say that there is nothing routine about this tragedy, nothing routine about your loss. Your loved ones will not be forgotten. They will endure in the hearts of the American people and the hearts of the Navy that they helped to keep strong, and the hearts of their co-workers and friends and their neighbors."


For information on Navy support to those affected by the Navy Yard incident, check out this link: http://www.navy.mil/submit/display.asp?story_id=76609