MLK Leadership Award to Kelly of Jo-Kell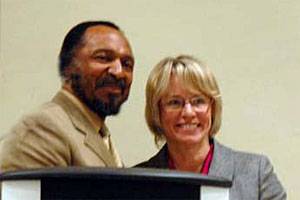 Suzy Kelly, CEO of Jo-Kell Inc., an electrical distributor and engineering company, received the Martin Luther King Leadership Award. The ceremony took place January 19th at the annual breakfast celebrating Martin Luther King Day at the Chesapeake Conference Center in Chesapeake, VA.

The prestigious award was presented by Bishop E.W. Jackson Sr., Pastor of Exodus Faith Ministries located in Chesapeake. This award recognizes individuals whose service to their community reflects the late civil rights leader's ideals and vision of racial equality, human dignity, grace, humility, quality of life and service.

Kelly's service to the community includes: St. Mary's Home for Disabled Children, Food bank of South Hampton Roads, Executive Advisory Council of ODU, The Chesapeake Police Department Advisory Board, Friends of Chesapeake Animal Services, Aircraft Carrier Industrial Base Coalition, Lead Hampton Roads, VA Chamber of Commerce, and Co-founder of Leadership Chesapeake. In addition to her service on community boards and committees.