MOL Concept for New-Generation Vessels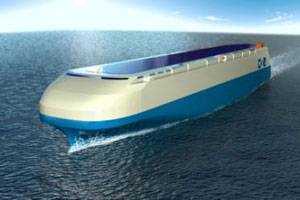 Mitsui O.S.K. Lines, Ltd. announced that the company has formed the concept for its next-generation vessels, which will be a technically practical in the near future, by building on and refining technologies it has already developed and adopted.

The first is a next-generation, environment-friendly car carrier. MOL continues to work on concepts for other next-generation vessels such as ferries, bulkships, tankers, and containerships. The company will continue working to stay in the vanguard of technological developments in the global ocean shipping industry.

MOL named the first concept: Car Carrier "ISHIN-I (ishin one)," which stands for "Innovations in Sustainability backed by Historically proven, INtegrated technologies." While in port, and during loading and unloading the concept vessel would achieve zero CO2emissions. The concept further develops the use of renewable energy for conventional car carriers. It adopts large-capacity solar-power panels and rechargeable batteries. Under way the concept vessel would reduce CO2 emissions by 50%.