Dutch Treat for Cavotec Moormaster at Ferry Terminal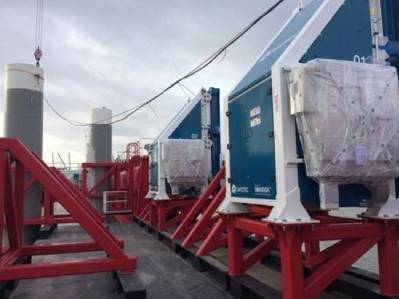 Cavotec say that their first automated mooring application in the Netherlands is in place as two MoorMaster units were delivered and carefully lowered into position at Port Den Helder.

The units will be used by two TESO passenger ferries on the Den Helder-Texel Island route. With a length of 130m, the ferries can hold up to 300 cars and some 1,750 passengers.

The MoorMaster units will enable ships' engines to idle during each 10-minute boarding process. Previously, the ships' engines were used to hold the vessels in position. With some 6,000 port calls made on the route annually, MoorMaster will reduce emissions and fuel costs substantially.

Cavotec explain that MoorMaster holds ships in place securely with remote controlled vacuum pads, and moors and releases vessels in seconds, compared to anything up to an hour using conventional mooring.
A Moormaster a work video can be seen at: http://bit.ly/1c91743