MSC Cruises Begins First Round the World Relay Race at Sea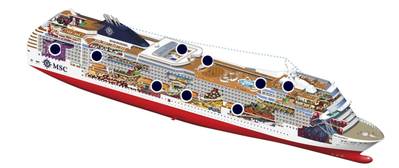 The Swiss-based cruise company MSC Cruises has waved 'bon voyage' to MSC Magnifica as the final guests embarked today in Barcelona for the Company's first world cruise.

For many, the idea of seeing the world is just a dream, but a world cruise is an easy way to make this dream a reality, and the only way to circumnavigate the globe without having to unpack a suitcase more than once! On this first world cruise, MSC Cruises guests will visit 49 different destinations, checking off 32 countries from their bucket lists.

From the Mediterranean, to the Caribbean, through the Panama Canal and over the Pacific, the Indian Ocean, through the Gulf and back to Europe, it is truly the trip of a lifetime.

"To capture this incredible journey and to inspire others to consider embarking on a once-in-a-lifetime experience, MSC Cruises has enlisted a team of content creators to take part in the first round-the-world relay race at sea on board MSC Magnifica as she journeys for 119 days across six continents, traveling 32,260 nautical miles and crossing 24 time zones," said a press release.

The nine social influencers from different parts of the world will each sail a different segment of the cruise and capture their experiences so that their fans can follow this incredible voyage of discovery. They will curate stories inspired by the 'made by humans' concept, meeting and interacting with local people ashore in each of the countries that the ship will visit, celebrating global culture. These content creators will also step into the shoes of the incredible crew members on board the ship and share the experience through their eyes.

The MSC Cruises relay team consists of Benn TK (Australia), Kara and Nate (USA), Izhan (Spain), Life to Go (Germany), Anil B (Switzerland), Human Safari (Italy), Nick Miller (South Africa), Ayumu Yamashita (Japan) and Vitor Liberato (Brazil).