MSC Ships Train to Support U.S. Troops Ashore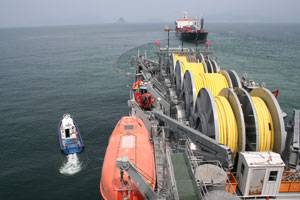 Two Military Sealift Command ships conducted a training exercise off the coast of Yeosu, South Korea, Aug. 17-18, where they rehearsed the U.S. military's unique ability to deliver fuel to ground forces ashore from a tanker anchored up to eight miles from the coast.

The cornerstone of this capability is offshore petroleum distribution system ship MV Vice Adm. K.R. Wheeler - the only ship of its kind. Wheeler works as an at-sea pumping station to transfer fuel ashore from commercial and military tankers. The tanker pumps fuel to Wheeler, which in turn pumps the fuel to shore.

For this exercise, Wheeler operated in concert with MSC tanker USNS Lawrence H. Gianella to practice the highly complex operation of running a fuel transfer hose between Wheeler and Gianella and then maintaining the ships' connected at-sea position for an extended period of time.

In a follow-on exercise scheduled for next month, Wheeler's crew will simulate pumping fuel to shore, which they do using eight miles of flexible pipe that is stored on the ship's weather deck wrapped around five, 35-foot-tall spools.

In less than 48 hours, Wheeler's crew can run the full length of pipe ashore, run a float hose to a tanker from the ship's stern and be ready to pump fuel at a rate of about 1,400 gallons per minute - up to 1.7 million gallons in 20 hours.

This month's training was designed to sharpen the skills of Wheeler's and Gianella's crews, according to Wheeler's civilian master Capt. Jon Skoglund.

"This real world training is invaluable for the entire crew," said Skoglund. "We make sure that all the equipment is operational and validate that we are prepared to execute our mission." Both Wheeler and Gianella are crewed by civilian mariners who work for private companies under contract to MSC.

The mission got underway Aug. 17, when Wheeler and its support ship MV Fast Tempo left the port at Busan, South Korea. The 165-foot Fast Tempo is a powerful tow and tug boat designed to support Wheeler in real-world operations. After making the seven-hour voyage, Wheeler stopped five miles off the coast of Yeosu, South Korea.

An hour later, Gianella anchored about a mile from Wheeler's stern and both ships waited out the night. "Wheeler is a one-of-a-kind ship - there is no equivalent in the U.S. Navy or the commercial sector," said Rick Bower, one of eight contract personnel assigned aboard Wheeler whose sole mission is to manage the offshore petroleum distribution system.

The training mission kicked off the following day when Fast Tempo secured a tow line to Gianella's stern. Once secured, Fast Tempo used two of its four powerful engines to gently tug on Gianella's stern. "Fast Tempo acts as a brake, tugging on Gianella so it can safely maintain its position," said Wheeler's Chief Mate John Souza.

Next, Wheeler positioned itself off of Gianella's bow. Using its sophisticated, computer-controlled dynamic positioning system, with multiple thrusters, two of which can rotate 360 degrees, Wheeler inched backwards to within 30 feet of Gianella's bow. Next, a tow cable was attached and secured to Gianella, which then weighed anchor.

Next, one of Wheeler's two embarked work boats secured a line to a floating pipe section deployed from the ship's stern. The small boat dragged the float hose some 800 feet towards Gianella, where waiting mariners used the ship's side crane to hoist the hose aboard. Next, the hose was secured to the ship's receiving manifest. The hose remained connected for one hour to test Wheeler and Gianella's ability to maintain their position.

The hose was then disconnected and Fast Tempo and Wheeler released the tow lines from Gianella, completing the mission. Wheeler will return to Busan for a routine port call, while Gianella heads for Diego Garcia as part of MSC's Maritime Prepositioning Ship Squadron Two.

MSC operates approximately 110 noncombatant, civilian-crewed ships that replenish U.S. Navy ships, conduct specialized missions, strategically preposition combat cargo at sea around the world and move military cargo and supplies used by deployed U.S. forces and coalition partners.