Otto Marine Name Multi-Purpose OSV at Indonesia Shipyard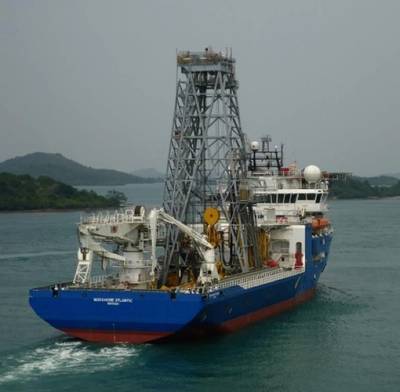 Singapore-based Otto Marine inform it has named the 'Norshore Atlantic' – which it considers to be the first vessel of its kind to be constructed in Asia – at its Batam Shipyard in Indonesia.
The new offshore service vessel has been built to the MT6022XL Norwegian design. The highly complex vessel classed by DNV is equipped with dynamic positioning 3 ('DP3') capability, and is primarily designed for riserless operation utilizing known and field proven technology.
Norshore Atlantic is equipped to perform riserless drilling operations, plugging and abandonment of old wells, well completion work, well intervention and subsea construction work. It has an ROV system installed onboard, and is equipped with a 150T AHC, offshore cranes, and a drilling derrick.
The owners explain that the new ship is suitable for work in both shallow and deep water, ranging from 70 to 3000 meters. For its maiden project, the Norshore Atlantic is contracted in Asian waters. Subsequently, it will be engaged by an oil major on a three year program and is expected to work globally.

Mr. Garrick Stanley, Chief Executive Officer commented: "The completion of the Norshore Atlantic is a significant milestone for Otto Marine, and for the offshore support vessel industry in the Asia Pacific region. Through Norshore Atlantic and the recently delivered Go Phoenix, we have demonstrated that our yard is capable of constructing ultra-large, highly sophisticated vessels.:

About Otto Marine Limited
Otto Marine Limited is an offshore marine group which owns and operates a large fleet of offshore support vessels and is engaged in specialized shipbuilding of offshore vessels for primarily Deep Sea applications. Headquartered in Singapore, the Company owns/leases and operates 64 offshore vessels and has one of the largest shipyards in Batam, Indonesia.