Nakilat, Höegh LNG Ink MoU on FSRU project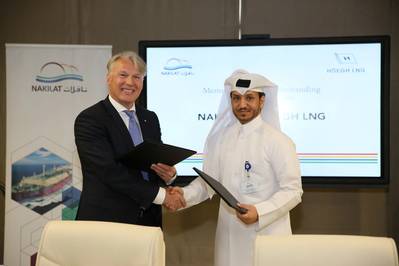 Nakilat signed a Memorandum of Understanding (MoU) with Höegh LNG, exploring collaboration for Floating Storage and Regasification Unit (FSRU) business as part of its diversification strategy for opportunities and solutions to delivering LNG to the global markets, with FSRU being a leading-edge technology for the liquefied natural gas (LNG) market. Essentially a floating LNG import terminal, this technology has become a strategic solution for countries without LNG receiving terminal infrastructure, enabling better accessibility of clean energy.
"
Nakilat views
this strategic alliance with Höegh LNG, as a huge stepping stone for further growth," said Nakilat's Managing Director Eng. Abdullah Al-Sulaiti. "This agreement paves the way for greater business opportunities to create substantial platforms for local players to get involved in the project, exposing them to innovative technologies and expertise that would be beneficial to their growth and the development of Qatar's energy and maritime industry.
Mr Sveinung J.S. Støhle, President and CEO of Höegh LNG said, "We are pleased and very proud to be partnering with Nakilat, the largest LNG carrier company and look forward to jointly contribute to expanding the global market for LNG. The alliance with Nakilat is a confirmation of Höegh LNG's leading position in the FSRU market and offers the opportunity to further accelerate our market presence beyond the projects we undertake on a sole basis."