Arctic Navigation Training Center Opened in Russia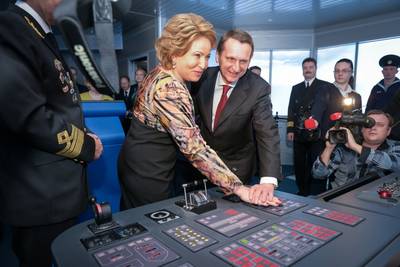 OAO Sovcomflot opens its Saint-Petersburg captain & senior officer training & engineering centre (TEC) for Arctic offshore operations.

The opening of the modern training centre in Russia's maritime capital marks an important milestone in the implementation of the SCF development strategy which provides for an expansion of company participation in oil & gas projects in the Arctic and sub-Arctic. Sovcomflot vessels provide year-round support for large offshore energy projects, such as: Sakhalin-I, Sakhalin-II, Varandey, Tangguh, Escobar, and Peregrino.

Training at the new SCF centre will be conducted in close collaboration with Russia's leading maritime institute, the Admiral Makarov State Maritime Academy (Saint-Petersburg). Modern systems in place at the centre will allow SCF to conduct essential training, simulate navigational situations in differing climatic conditions, and develop the best possible engineering solutions for specific projects using the centre's own equipment.

SCF's new training centre will provide staff with the opportunity to trial and drill a whole range of Arctic maritime operations: navigation at northern latitudes, servicing of oil platforms, the transportation and offloading of hydrocarbons in challenging climatic conditions, navigating in icy waters with icebreaker escort, approaching ice-resistant terminals and vessel positioning during loading operations, the organisation of complex towing operations, etc.

All training equipment at the SCF TEC, as well as navigational and cartographic hardware, was manufactured and installed by the Russian company Transas (Saint-Petersburg) a leading supplier of onboard electronics, maritime and aviation simulators.

Sovcomflot Group is Russia's largest shipping company and is a leader in the sphere of maritime hydrocarbon transportation. SCF also supports continental shelf exploration and oil & gas production. Its fleet includes 156 company-owned and chartered vessels with a combined deadweight of around 12-million tonnes and specialises in hydrocarbon transportation from regions with challenging ice conditions. A third of the SCF fleet is made up of ice class vessels.

The TEC opening ceremony was attended by: Valentina Matvienko – Speaker of the Council of the Federation, Sergey Naryshkin – Chairman of the State Duma, Georgiy Poltavchenko – Governor of Saint-Petersburg, ViktorOlerskiy – Deputy Minister of Transport, and Ilya Klebanov –Chairman of the Board at OAO Sovcomflot.