RCI Cruise Ship Propulsion Repairs Necessitate Docking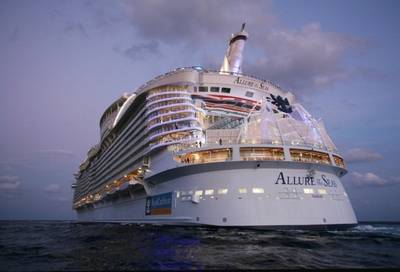 Owners, of the giant 'Allure of the Seas', Royal Caribbean International say that a mechanical issue obligates performance of unscheduled repairs to their cruise ship 'Allure of the Seas', and the repairs will take place at Grand Bahama Shipyard, in Freeport, Bahamas, the week of February 24, 2014.
As a result of coming out of service RCI say it will be necessary to cancel the February 23, 2014, sailing of Allure of the Seas, explaining that the giant cruise ship has been experiencing unanticipated bearing wear in one of its three propulsion motors.
The company adds that all three motors are fully operational, and there is no impact on the maneuverability of the ship or on the safety of guests and crew. However, since the rate of bearing wear is directly related to ship speed, the ship's top speed has been limited. This has reduced the rate of bearing wear, and will ensure that all three propulsion motors are fully available for maneuvering and emergencies until repairs can be completed.

"While Allure could have continued to sail at a reduced rate of speed, we felt it was important to fix the problem as soon as possible," said William D. Baumgartner, senior vice president of Marine Operations, Royal Caribbean Cruises Ltd. "We explored numerous repair options. Unfortunately, there was no satisfactory solution that did not involve taking the ship temporarily out of service."

The company said guests currently booked on the February 23, 2014, sailing of Allure of the Seas will receive a full, 100 percent refund, or the option to sail on select itineraries at the same rate.