New Chief Surveyor at GL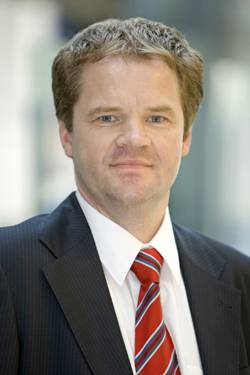 Germanischer Lloyd's (GL) new Chief Surveyor is Norbert Kray (42). He will be taking on the professional support of the classification society's 1,000 surveyors in over 77 countries. In future, the qualified naval architect and marine technology expert will appoint new technical surveyors, monitor their work and further develop new rules for the construction and operation of ships.

Norbert Kray started his career at the Bremer Vulkan shipyard and moved
to Germanischer Lloyd in 1997. To begin with, he worked in the Analysis
of Hull Structures and Damages; later he was deputy head of GL's Damage
and Repair Management. Since 2002, Kray has represented GL in committees
of the International Association of Classification Societies (IACS).

Starting in 2006, Norbert Kray headed up the Technical Support
department, and was hence also responsible for Germanischer Lloyd's
Emergency Response Service (ERS). Owing to the considerable demand for
comprehensive technical support in cases of average, he founded the GL
Gdansk Engineering Services in in January 2007 and assumed the
technical management for the preparation of computer models of the
registered vessels.

As Chief Surveyor, Kray will be responsible for the regular technical
inspection of the fleet in service of at present over 6,600 vessels. In
addition, the Chief Surveyor will also be responsible for monitoring the
inspection processes for ship newbuildings, as well as materials and
components. To this end, Kray decides on the deployment of the task
force headed by him.

The evaluation of the survey reports - around 24,000 each year - allows
Germanischer Lloyd to glean critical insights into the capacity of both
vessels and their machinery. In conjunction with extensive research and
development activities, as well as the continual analysis of occurring
damage, the construction rules of GL are regularly adapted to the latest
technology and developments.

A further focus of Norbert Kray's field of activity is to systematically
enhance the training of the surveyors. The training and qualification of
the surveyors has been individualised through the introduction of a
comprehensive training concept, the Surveyor Excellence Network (SEN),
in order to meet the training requirements of each individual to an even
greater extent.