New Heavy Lift Record for Jumbo Jubilee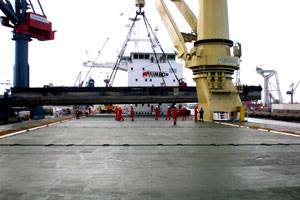 On Saturday the 22nd of August 2009, a new tandem heavy lift record was set by MV Jumbo Jubilee. During the crane tests of Jumbo's latest J-class vessel at the Huisman yard in Schiedam, a ballasted pontoon was lifted out of the water in tandem by the two 900t mast cranes. A load of 1,980 tonnes, 10% on top of the combined safe working load (SWL) of the cranes, was required to obtain a Lloyds Certificate of Compliance. During the test it appeared that the testload had a record breaking weight of 1,992 tonnes: the heaviest load ever lifted by a heavy lift transport ship. Earlier that week, both cranes performed a full 360-degree swing with a load of 990 tonnes. Meanwhile, the ship was ballasted to a 4 degree heel angle, in order to test the cranes under all circumstances it can encounter during its lifetime.

MV Jumbo Jubilee is the fourth J-class vessel in the Jumbo fleet of 14 in-house designed heavy lift vessels, and was delivered practically without a hitch because of the experience gained on her predecessors. After final commissioning, the vessel will set sail for Brazil.